We've all heard those horrifying landlord stories. The ones that make you think twice about becoming a landlord. Stories that involve tenants destroying personal property, tenants running a drug house, or those tenants that make life plain miserable. While it does happen, it is rare when one has a top-notch screening process to follow. There are several things you can do as a landlord to prevent these types of tenants moving into your property. Lets take a look at what a thorough screening process involves and steps to take.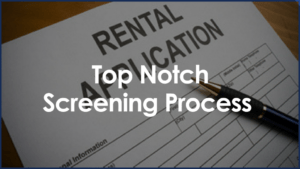 Setting Criteria
First things first, you'll need to have criteria set for prospective tenants. This criteria should be suited for all tenants and no exemption should be made once completed. Our criteria here at Gulf Coast is very straight forward and includes;
Median credit score of 600 or greater
No evictions within the last 3 years
Less than 5 negative credit markers within past 3 years
Gross income greater than 3 x monthly rental rate
No bankruptcies within the last 3 years
No trace on Sex Offender's list
If tenants fall below this criteria without evidence mitigating reasons than those prospecting tenants will not be considered to rent a home through us. If they do have evidence we then turn the application over to the owners for approval.
Application & Fee
Which brings us to the second most important thing to have. An application and a fee to go along with it. Having an application and fee will help weed out all the unsuitable prospective tenants that are looking to rent your home. At Gulf Coast, all prospecting tenants over the age of 18 that will be living at the home are required to fill out an application and pay the non-refundable $100 fee. This fee goes toward background checks, report checks on bankruptcies, eviction, and other related items.
The application also includes tenant contact information, previous residency, personal information, financials, and attached documents (ID, SSN, bank statements, pay stubs etc). This application is done to ensure the tenants are financially stable and responsible to move into a home. Again, if their application doesn't fit the criteria mentioned above they are denied. The next available applicant will be reviewed.
Conclusion:
Whether you run these reports or you have a property manager do them for you it is very cost effective to you considering the potential cost of getting a bad tenant in your home. Remember including a criteria, application and fee will help you distinguish those tenants that are serious and ready to rent your home. Most prospective tenants will not move forward with a nonrefundable application fee if they aren't serious about renting your home and certain they fit your criteria.
Furthermore, if you have any other questions about our screening process or simply need help finding tenants for your rental feel free to reach out to us. We would be happy to help.
Check out our recommended blogs below
The importance of a detailed inspection
Tips For Scheduling Showings: What To Look For In A Property Manager
What is the True Value of a Bradenton Property Management Company?
Hungry for more? Check out the two blogs below or visit our Owner Resource Center here to find answers to all of your questions. Or give us a call at (941) 782-1559, we'd be happy to answer any questions you may have.
Should I Rent My Property as a Vacation Rental or Annual Rental?