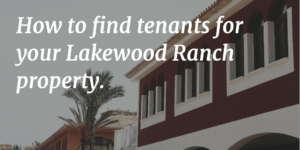 If you have rental property, one of your top priorities is finding tenants. But not just any tenants - you want good ones! You can go through this process yourself, or you can hire a Lakewood Ranch property manager to handle this for you.
Either way you choose, here are some tips to assist you in finding the best tenants for your property. Just remember, selecting the right tenants for your Lakewood Ranch Property is essential for keeping good relationships with your neighbors and for the harmony of the Lakewood Ranch community.
Get Exposure
You'll definitely want to advertise your property. In most markets, the best place to start is online - and some of the best places to start online are free! People love to watch videos, preferably short and interesting ones. Create a virtual tour of your property using your best photos and interesting music and upload this to YouTube. Additionally, a note about the music you choose for your virtual tour; you don't want to put people to sleep - choose something interesting and upbeat, but something that also lets your property take center stage.
Keep your target market in mind as well when choosing your background music. You can post a virtual tour of your property on classified sites such as Craigslist as well as YouTube, and don't forget your social media accounts! Facebook, Twitter, Instagram, etc. are also great places to post your virtual tour. All of these are free. There are also options that charge a fee, such as rentals.com that can be very helpful in finding good tenants for your Lakewood Ranch property.
Give Me a Sign
Put a sign in the yard. Andrew Propst, president of the National Association of Residential Property Managers states that, "Three out of ten properties we lease come from signage." Many virtual tour services also offer mobile lead capture services. This is where someone can text a code to a certain number to get more information. This can be posted on a sign rider with your "For Rent" sign. This enables people who drive by to gather more information about your property. This also will capture their phone number for you to follow up.
Clean it Up
This comes towards the end of this article, but is definitely one of your first steps. Clean, well-cared for properties have a better chance of attracting tenants who will keep it that way. An attractive property that is freshly painted and well decorated can also bring in a better rent price.
Fix it Up
Make all necessary repairs. Make sure all appliances are in good working order. Your pest control service should be up-to-date. If the property has a lawn. Make sure it starts out in excellent condition. After move-in, make it easy for your tenants to maintain the lawn and landscaping. Provide them with information regarding lawn care and landscaping. Also, in some situations, you may want to make the lawn care and landscaping service a part of the rent they pay. This takes the burden off them and gives you the peace of mind that the outside will remain in good condition.
Fill it Out
Use a standard rental application form. This is a simple and effective way to gather the information you need to conduct a background check. There are many places to obtain standard rental applications and agreements such as legalzoom.com. It is also common for property owners to charge a nonrefundable application fee to over the cost of a background check.
Be Clear
Your rental agreement should clearly spell out all the terms and conditions. Are pets allowed? Do you require renter's insurance? Make it clear what you expect from them and what they can expect from you. All of these tips can help find tenants for your Lakewood Ranch Property and also create a positive experience on both sides!