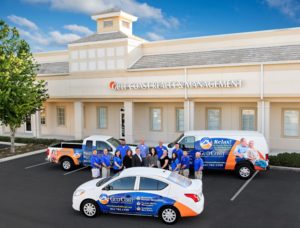 For more than a decade, Gulf Coast Property Management has been providing top-tier management services to clients across Bradenton and Sarasota. Our talented team of real estate professionals, proven marketing strategies, and keen understanding of our local rental market has helped us to successfully partner with hundreds of landlords in our local area. Today, we thrilled to announce yet another step in our journey as we launch our brand new digital home.
When it came time to build a modern, full-featured site, we turned to the experts at OpenPotion, the industry's leading developer of property management websites. Together with their development team, we've created a new website that reflects our vision moving forward. We'd love to take a few moments to explore some of these features with you now.
Comprehensive Breakdown Of Our Process
We pride ourselves on offering an unparalleled customer service experience. We strive to maintain an upfront, honest relationship with every customer we represent. Our no-hassle contracts, clear pricing schedules, and transparent operating schedules are fundamental keys to how we do business. This site allows you to explore the various services we offer, including tenant placement, evictions, and accounting and much more. Better yet, it's responsive, making it easily accessible from a number of different devices.
Full-Featured User Portals
As project managers, we understand the importance of each relationship we build with our clients. Maintaining an open line of communication is a powerful tool in strengthening the partnerships we share with homeowners and property investors. Which is why we offer comprehensive portals for both tenants and clients alike. These tools make it easy to access inspection reports, financial statements, and much more. They also help keep tenant satisfaction high, with easy options for paying rent and reaching out to our maintenance team.
In-Depth Staff Profiles
At Gulf Coast Property Management, we strive to offer much more than generic property management. Our team is comprised of an eclectic mix of maintenance experts, administrative professionals, and real estate specialists. Our site makes it easy to learn more about each member of our team. It also allows us to further solidify our position as one the top property management company in Bradenton.
As we launch our new site, we're excited to see the next period of gitemth at Gulf Coast Property management unfold. We'd like to thank our friends at OpenPotion, and we also encourage each and every one of our visitors to take some time familiarizing yourself with the various resources on the pages of this site. We're confident you'll love the finished product.
Not yet a client of ours? Give us a call today and learn more about all that we have to offer. From accounting to tenant screening, maintenance calls to evictions, we handle property management from A to Z. To learn more, call us at 941-782-1559.