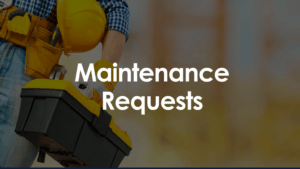 Recent changes have been made to the way we handle our maintenance requests. Moving forward maintenance requests can be input through our tenant portal system. This recent change has prompted us to look at how we handle incoming calls and online requests and we are pleased to announce that we now have a dedicated maintenance line being serviced 24/7 and 365 days a year.
The 24/7 maintenance hotline number will be given to tenants upon move in. The call center will also be responding to online maintenance requests 24/7 and 365 days a year. Tenants can make use of this new feature and their tenant portal for all maintenance requests.
Maintenance Request Set Up:
As a new tenant you will receive a invitation email from us to set up your online portal. It's as simple as picking a password and you're ready to go! Whenever you need to report a maintenance issue simply visit our website's tenant portal where you'll find the tenant portal link. Once you click the link, navigate to the tenant maintenance section to input your request.
Service Expectations
We understand tenants have an expectation of prompt service. It is our intent to provide this to all of our tenants. Unfortunately, there are occasionally circumstances that fall outside of our control which delay how quickly service can be performed. Examples of these may include;
In some cases we have to seek the property owner's approval
If the property owner has purchased a home warranty policy, we are required to work on the insurer's timeline.
If an item is under a product wire, there is a requirement to contact the manufacturer before committing to incurring the property owner direct cost.
When any of these situations occur it is not ideal but Gulf Coast will be pushing hard at our end to resolve any maintenance troubles.
Hungry for more? Check out the two blogs below or visit our Owner Resource Center here to find answers to all of your questions. Or give us a call at (941) 782-1559, we'd be happy to answer any questions you may have.