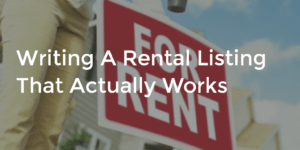 Have you ever read a rental listing that use an excess of flowery words and leave you asking, "Where's the beef?! Where's the substance?!" People don't have a lot of time, and when they look at your rental listing you have a very small window to capture their attention. You actually have less than a minute.
In a study conducted by Old Dominion University in Norfolk, VA, they found that people looking at a rentals look at the exterior photo for about 20 seconds – if it's a good one – then 76% of them look at the number of bedrooms, bathrooms, the square footage, etc. Only 58.5% even begin to read the description/remarks. For those who actually do read the description, you'd better catch them in the first line or they're gone.
Facts:
Recently I was looking at a rental listing and came upon this in the first line, "…sitting regally upon its elevated landscape overlooking the serenity of the water, this home lures you into its greatness…" I didn't read any further. I want to know facts, does it have volume ceilings? What kind of flooring? Granite countertops? A lake view? Tell your reader the most valuable and important things your property has to offer in the first line. Then you have a chance that they'll read further. Descriptions that contain hyped-up adjectives, brand names and too many caps were the most overlooked. Speaking of caps…
Don't Overuse Caps:
IF THE ENTIRE SENTENCE IS IN CAPS YOU'RE YELLING. DON'T do it. There's the saying, "if everyone is special, then no one is." Well, if everything is emphasized, then nothing is. Use caps, but use them wisely. Something like this, "This lovely home has ENGINEERED HARD WOOD throughout the living and dining room… NEW GRANITE counter tops have just been installed in the kitchen and bathrooms." Also something interesting to know – those who study graphic design learn that it is actually easier for people to read lower-case text. Reading all the words in caps slows the reader down. So please, DON'T overuse caps!
Abbreviations:
Be careful in how you use abbreviations and "real estate" speak. Something like, "3/2/2, 1785SF, H/HW" may be clear to you, but many readers aren't sure what it means, or may be confused. Make it clear and simple, "3 bed/2 bath, 2 car garage, 1,785 square feet under heat and air, etc." Using bullet points is also a good idea if your listing systems allows it.
Photos:
A little more about the photos, and while this point may be last, it is certainly not least. If you don't have any photos, many people won't look at your listing at all. So it is essential to have at least one. Many websites limit the number of photos you can use, so make the most of the ones you post. Back into a corner of the room to get the widest angle possible and to give the photo a feeling of spaciousness. The rooms need to be completely free of clutter and as nicely staged a possible. Try to not use the flash if possible, try to make the most of natural light. Show off the kitchen, living room, bathrooms and exterior – especially when there is nice landscaping.
If you need help listing your property for rental, remember that Gulf Coast Property Management is here to help. Contact us today!