The move out process and return of your security deposit claim procedure is the most common source of friction between property management companies and tenants. If you read and adhere to the suggestions in this post, you will learn that this needn't be the case.
First and foremost, property management companies represent the owner of the property. The managers are hired to protect the investment and interests of the owner. That doesn't mean we are want to claim anything that the owner is not entitled to. Believe it or not, most managers don't want to claim your deposit just because.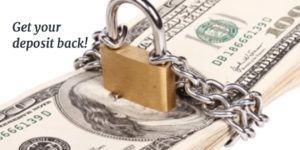 I would like to go over a few strategies to help you, the tenant. Give yourself the best chance at the return of your security deposit. A move out in which we can release 100% of the deposit back to a tenant is typically the easiest transition. Also, means we are able to quickly move a new tenant in, which is our primary function.
Read your lease agreement
I can't tell you how many times I have ended up in a dispute with a tenant. One who has clearly never read the lease; the lease that they signed! In most cases, the terms of the lease are not overly strict, but they can be very specific. As an example, at Gulf Coast Property Management we include 'mandatory' charges for items such as cleaning and carpet cleaning. We do this to avoid disputes at vacancy due to subjective standards.
Avoid "Move-Out Problems" at Move-In
When you agree to rent a property and sign a lease, make sure the house is in the condition that the landlord or property manager is going to require you to leave it upon move out. If you move into a house and find it dirty, or find that the carpets have not been cleaned, or repairs have not been made, or any number of issues, make sure to notify your landlord or property manager in writing, immediately. If not, many leases will waive move in issues and make you responsible for correcting them at move out.
Put yourself in the shoes of the incoming tenant
Once you have finished packing and the house is nearly ready to return to the landlord or management company, think a minute about the new family moving into the house you just finished calling home. Would you be happy moving into it like it is tomoritem? This is the situation we, as managers have to assess each time we conduct our move out inspection. Is that new tenant going to want to put their food in the fridge, sit on the toilet, or soak in the tub as you left it? Walk out of the house and then back in and picture yourself moving in…would you be satisfied? Do you need to arrange for any minor repairs? Are the stove pans clean? Toilet paper and towel bars secured? All light bulbs working? Things like this can quickly cause charges to start accruing.
Clean Carpets Professionally
If your lease does not include mandatory charges you may still be required to ensure the entire property including carpets are professionally cleaned. This immediately rules out rug doctors rented from stores or personal carpet shampooers. Go ahead and plan on hiring someone. Check with your management company to see if the company has any reliable recommendations. The recommended companies are usually aware of the standards set by the company. They can advise the company if problems exist that are not your fault. Hiring "Bob's Carpet Service" because they were running a $20 special may not be sufficient once the work is complete. Now you have wasted money on a cheap job, and the manager may still have to make a claim against the deposit.
Clean…or Don't
One of most common disputes between tenants and landlords or managers is the overall cleaning of the house. I recommend again checking with your landlord or management company to see if they have a guide detailing the standards expected upon your move out. If the lease allows and you decide to clean the property yourself, make sure it is professionally complete. Just because you cleaned for a few hours does not mean that you cleaned well.
The same can be said for hiring a non-reputable company. We know it is frustrating for tenants who spend a day cleaning a house, only to find that the manager still made a claim for cleaning. This is why it is important to follow guidelines exactly. So you can avoid the headache all together and hire a professional. If you clean and miss something, someone else has to come in to correct the issues.
Touch-Up Painting and Repainting
Once you have packed up your belongings and moved furniture, you may have an abundance of nail holes, scuff marks, or damage from moving and rearranging furniture. Don't just start thiteming paint around to cover or "fix" the problems. Make sure to check the color match of the paint you are using. If the paint was left at the house, it may be a good match, but based on the overall condition of the walls in the house, or the age of the paint in the can, it may not match anymore. Check to see if scuffs can be cleaned with a damp magic eraser before trying to repaint them. Do not fill nail holes unless you plan to repaint over the filler.
These issues are made worse in most cases by trying to fix with mismatching paint or filler. If you need to match color, you can always take a sliver of the wall paint off by "peeling" the wall like an apple and taking it to Home Depot or Lowe's for a color and sheen match. Make sure you pick an inconspicuous spot, such as a closet before stripping the paint. If you repaint a room and did not get approval from the manager or landlord first, prepare to paint the room back to its original color, especially if it was bold colors. If you are going to fully repaint, take care not to spill paint or hit the ceilings or baseboards.
Do not expect to have an opportunity to correct issues after move out
Many tenants ask if they can be present for move out inspections. Or ask if they can be notified of the work needed and then have an opportunity to resolve them before being charged. The answer to this is a resounding no. There are no second chances. Once you vacate a property and return possession to the manager, the manager has a responsibility to the owner to prepare the house to rent again. Going back and forth with a tenant to make corrections, re-inspect, and then follow-up again is a financial and legal liability. Once you vacate the property, and before you return the keys, make sure you have done everything in your power to make sure the property is ready for the next tenants.
Talk to your Property Manager
Often overlooked in the move out process is actually talking to your property manager. Ask them what they are looking for, how specific issues should be handled, and who they recommend. At Gulf Coast Property Management, we will be happy to provide you with contact details of our trusted partners who can provide you with quotes before you vacate. That way you can decide what you want to pay for, or what you can do yourself.
Finalize your Move-Out
Make sure you vacate the property by the date specified in your lease. Also, return the keys along with any garage door remotes, gate keys, etc. that may have come with the property. The manager may not consider the property vacant until the keys have been returned to the office. You will be charged a steep penalty for the additional days you are still in possession. Always keep the manager updated with changes of dates or prearranged scheduling.
Document Everything
Even the best property managers and inspectors can make mistakes. In addition to the move in inspection performed by your landlord or property manager make sure you document your move in process with photographs and written documentation. Once you are completely out of the house, make sure to document the condition with additional photos and deliver them to your manager. If you hire work, such as carpet cleaners, painters, or house cleaners, make sure you also turn in the receipts when you turn in keys. It is much easier to defend a dispute if everything is in writing. Rather than trying to remember a year-old conversation from move in date.
IMPORTANT CONSIDERATIONS FOR YOUR MOVE-OUT
Read Your Lease: I can't stress this enough. Make sure you follow the guidelines set out by the landlord or manager. If you agree to do it and don't follow through, expect there to be a bill for it.
Clean Thoroughly: If you decide to clean yourself, make sure the work is performed to the highest possible standard. Otherwise your landlord or manager will need to hire expensive professionals to do the job properly. As an example, cleaning the bathrooms and kitchen completely. This means around the bottom of the toilet, removing soap scum from the showers tubs. If we find hair of any kind in the bathroom, that's a bad sign. To clean a kitchen thoroughly you have to clean the draws, cabinets and behind the appliances.
Work is Expensive: Property Managers generally have a list of contractors that they know are reliable and have reasonable rates. That does not mean they have the cheapest rates. If you know the house needs cleaning, and tell your manager to hire someone, make sure to get a quote rather than be surprised later. It may be cheaper for you to hire someone or do the work yourself. Also, if you clean the house and miss something, the manager still has to hire the cleaners to go out and take care of the problem. Minimum service calls are not cheap. While it may seem excessive to you, contractors work to make a living, and will charge for their time.
Finally, the most common phrase a landlord or property manager will hear is "I left the property in better/cleaner condition than when I moved in". Unfortunately, this is rarely the case. If you are truly the exception you must make sure you have the evidence to back it up! This will help ensure the return of your security deposit.